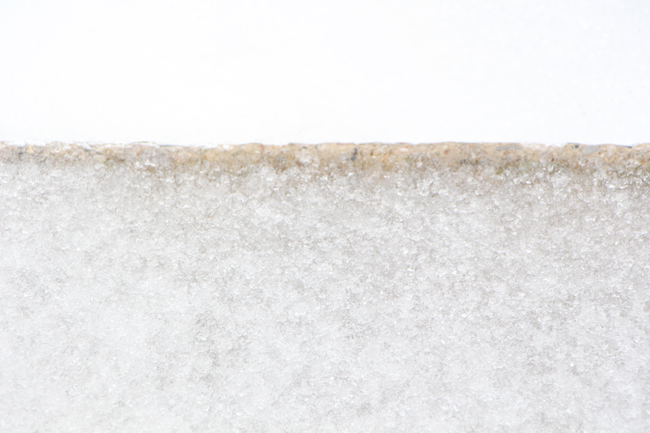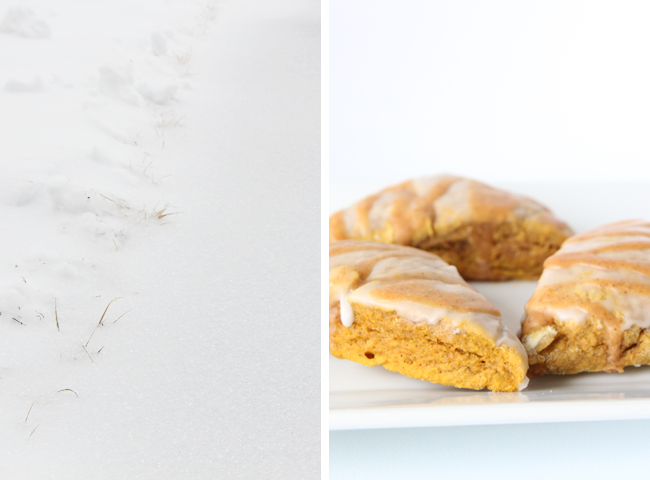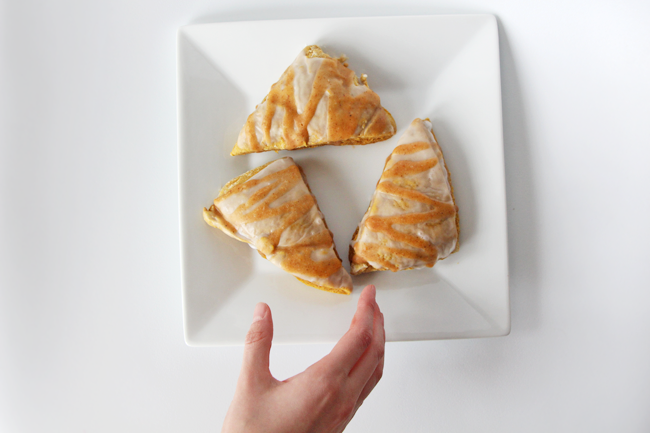 It's cold as ice outside (or as a foot of snow!) and baking lets the oven warm the house and keeps little fingers busy and tummies full. Although, many have put away their pumpkin and allspice since Thanksgiving, it's a favorite of ours and, I say, keep it going! So, here's a little scone recipe for you (if you've tried Starbucks' and like them, you'll love these! Not too sweet and all that pumpkin!)
Pumpkin Spice Scones:
2 1/2 C all-purpose flour
1/3 C light brown sugar
1 t baking powder
1/2 t baking soda
1/2 t salt
1 t cinnamon
3/4 t ground ginger
3/4 t ground cloves
1/2 t ground nutmeg
8 T (1 stick) cold unsalted butter
1/2 C pumpkin puree
1 T molasses
3 T half and half (or milk)
1 large egg
2 t vanilla extract
Glaze:
1 C powdered sugar, sifted or heavily whisked
Approx. 2 T half and half (or milk)
Spiced Glaze:
1/2 C powdered sugar, sifted or heavily whisked
2 t pumpkin puree
1/8 t cloves
1/8 t nutmeg
1/8 t ginger
1/4 t cinnamon
1 T half and half (or milk)
Scones:
Place rack in the middle of the oven and heat to 350.
Grease large cookie sheet (or use parchment paper).
Whisk the flour, sugar, baking powder, baking soda, salt, cinnamon, ginger, cloves and nutmeg together until blended.
Cut the butter into small cubes then scatter over the flour mixture. Use two knives or a pastry cutter to cut the butter into the flour (you can also use a food processor. You definitely want little chunks of butter in the dough, so don't over-mix!)
In a separate bowl, whisk the pumpkin puree, molasses, half and half or milk, egg and vanilla until blended.
Stir into the flour and butter mixture until a soft dough forms.
Transfer the dough to a floured surface and knead just until it comes together (add more flour as needed so it's not too sticky).
Shape into a rectangle and cut into triangle wedges (you can make 8-12 or so, depending on how small you cut the triangles).
Place on baking sheet and bake 10-15 minutes (toothpick inserted in the middle should come out clean).
Glaze:
Once the scones have cooled, begin the glaze.
Mix sugar and half and half or milk. Do a little of the liquid at a time, trying to get a thick, but drizzling consistency.
Dip the top of each scone directly into the glaze and place back on the rack to dry.
Pumpkin glaze:
Combine sugar, pumpkin puree, and spices, adding a little half and half or milk at a time–the same as the glaze above. Use a spoon to drizzle a zigzag pattern across each scone and let dry.
Enjoy!